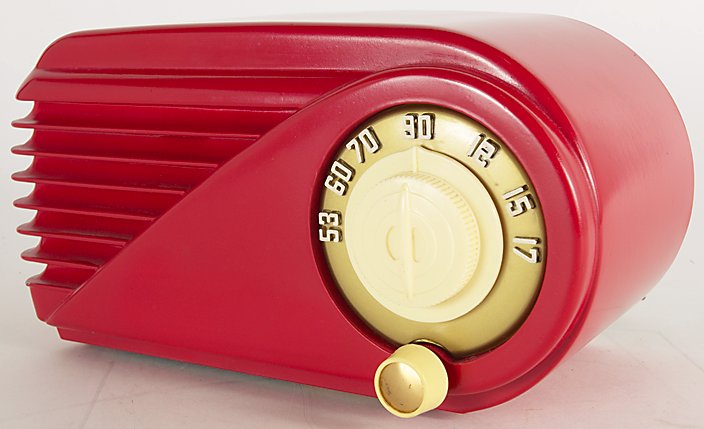 The Hollywood Connection

KTKT's application to the F.C.C. was filed by partners Tom Wallace Sr. and Tom Breneman (Top Center), who ran a Hollywood eatery, "Tom Breneman's Restaurant" (Bottom Right).  Breneman, the former Mayor of Encino, California, hosted a Blue (ABC) Network radio program originally titled "Breakfast At Sardi's," and later "Breakfast In Hollywood," until his accidental death April 28, 1948.   A motion picture was made about the "Breakfast In Hollywood" show (Top Right) starring Bonita Granville, Zasu Pitts, the King Cole Trio and of course Tom Breneman.

(Top Left) Groucho Marx's producer John Guedel (Middle Left) was the partner of Art Linkletter (Bottom Left).  Linkletter purchased a 49% interest in KTKT in the mid 1950's, advancing the funds necessary to put KTKT FM on the air.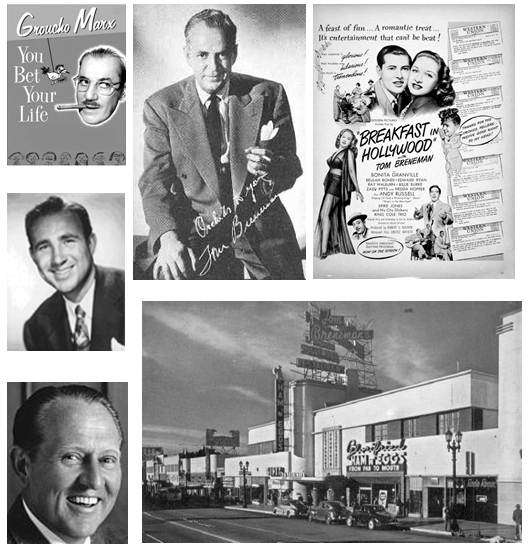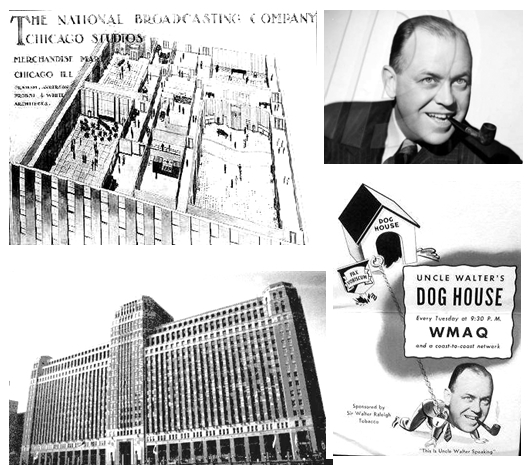 The Chicago Connection

Many of the NBC Network broadcasts originated from studios in Chicago's Merchandise Mart (above), because it could feed the nation from a central location.

Tom Wallace Sr. (top right) was the voice of NBC and had his own show, Uncle Walter's Dog House, (bottom right) in the early 1940's on the network.

Tom Wallace Sr. and Tom Breneman journeyed to Tucson in 1947 and decided to apply for a station license.  The two "T's" in KTKT are for the two Toms.

Tom Wallace had to go it alone after the accidental death of Tom Breneman on April 28, 1948.  Wallace's vast experience in network broadcasting helped him keep KTKT afloat during the early, lean years.

The Facts

In early 1949  a construction permit for AM 1490 with 250 watts was granted to Thomas J Wallace (owner) of 134 North Van Ness Avenue Los Angeles.

December 13 1949 – KTKT goes on the air at 7pm on AM 1490 to become Tucson's fifth commercial radio station. Offices, studios, transmitter and tower for KTKT are located at 500 West Elm Street.  KTKT is not affiliated with a network. KTKT will offer lots of locally produced programs with a big emphasis on news, local sports and music. 

KTKT personnel included Phillip R. Hurlbut – General Manager; Program Director and Chief Engineer; Gail Hummel –Commercial Manager; Ann Sawyer –Women's Director; Bernie Perlin- Sports Director.

Programming featured three Spanish language shows each day. KTKT started out with a library of 8,500 records.