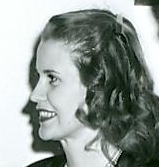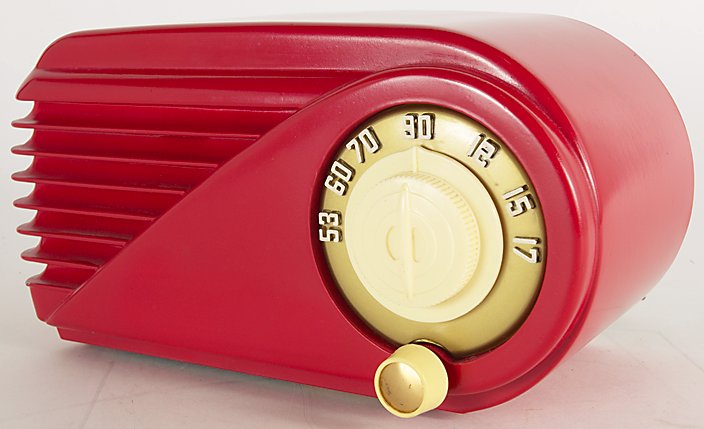 The station signed on the air Dec. 13, 1949. And, thanks to our eyewitness who was there, Bernice Hurlbut (right), we have pictures and audio of this event! She recollects the events and people pictured below. (Click on any photo to enlarge)

The Sights...

And, what did the local daily newspapers have to say about the opening?

(Click on any to enlarge)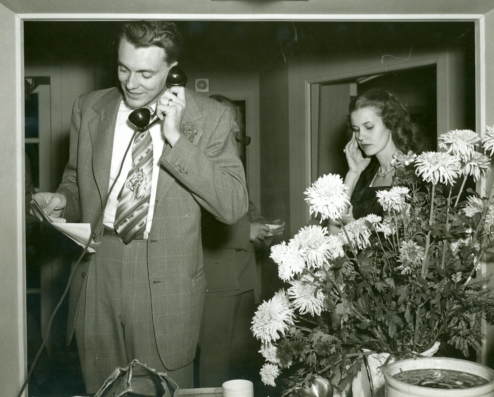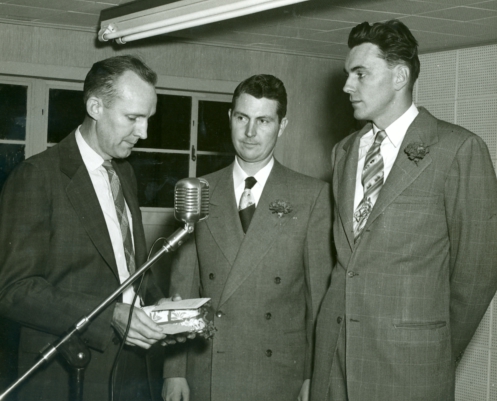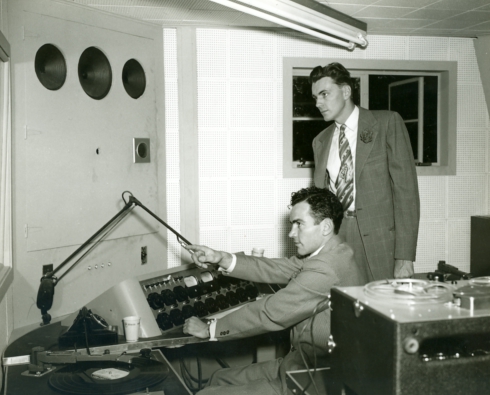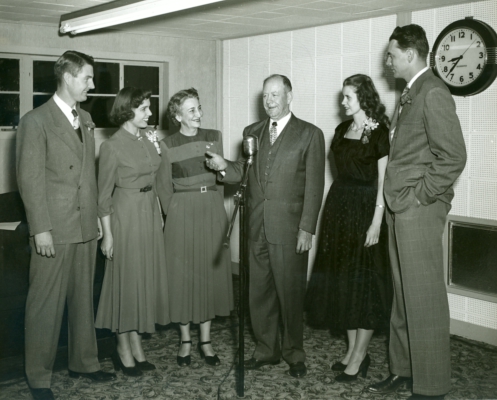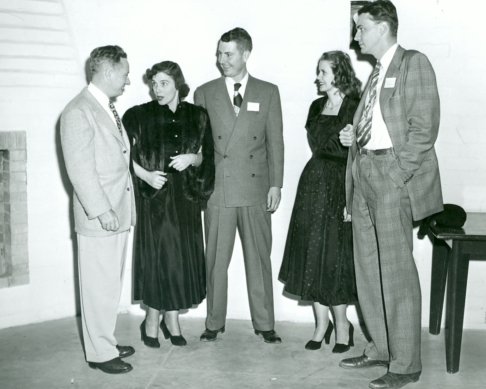 Governor Dan Garvey, Gail Hummel and Phillip Hurlbut

Left to right, are Gail Hummel and Mrs. Hummel, the Mayor's wife, the Mayor, myself and my husband, Phillip R. Hurlbut who was in charge of engineering and construction of the station and the original General Manager.

A more candid picture of Mrs. Hummel speaking  while her husband, Phillip and myself are standing by, was taken by the Phoenix Chamber of Commerce-Photo by Tom Linton.

Phillip Hurlbut watching as Jim, one of the Announcer/Engineers (DJs), cues someone in the studio

Mrs. Hurlbut, above with her husband Phillip,writes, "Initially, I did the bookkeeping and also remember typing up many field reports and program schedules in quadruple using different colored carbon paper on each line for the various genres, i.e., green for commercial, blue for PSA's, red for Spanish, etc.  (This was long before copy machines and color printers.)  After KTKT began operation, the management was turned over to Messrs. Wallace and Hummel while we went on in 1950 to engineer other radio stations."

"It should be noted that the photos were taken by Desert Photo, 1217 N. Stone, Tucson, AZ by Sedley.except as noted."

Bernice adds, "I hope you've enjoyed reviewing KTKT history as much as our family has. Tucson was so very different then, it's really been a fun trip down memory lane."

Listen to the Governor of Arizona, Dan Garvey,  speak at the opening of KTKT. This is rare audio. Most radio stations in the country did not yet have reel-to-reel audio recorders, yet. They were just new to the market. Amazingly, KTKT had one...you can see it in the corner of the bottom picture above.

That allowed us to have these comments for posterity.

To listen click on the arrow, left.   

After the Governor spoke, Phillip Hurlbut, the new General Manager, opened the station with congratulatory messages from many businesses, including competitors KVOA and KOPO radio.

Then, Larry Dietz, Program Manager, takes the mike for additional comments.

To listen, click on the arrow, left.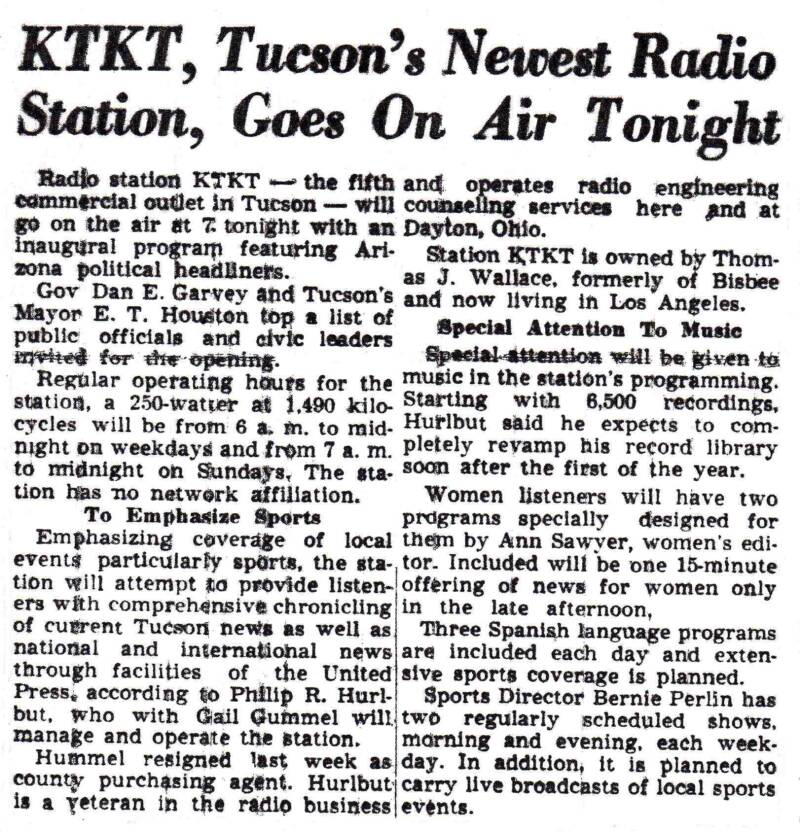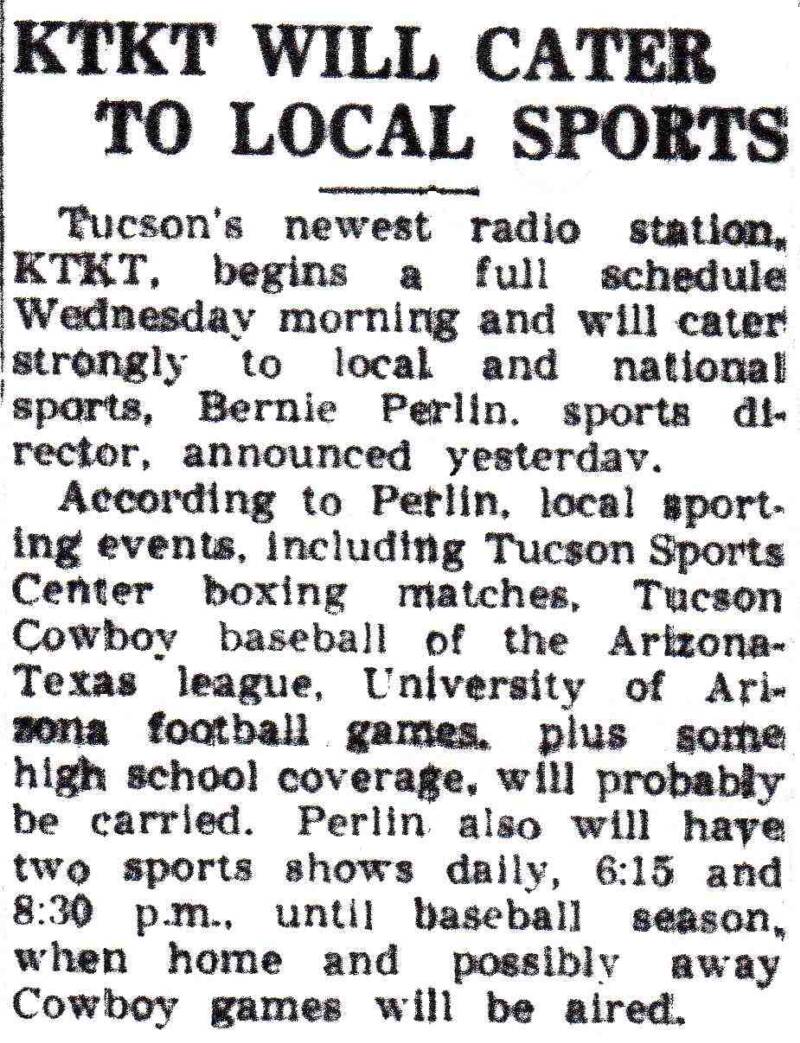 Tucson Citizen, Dec. 13, 1949

Arizona Daily Star, Dec. 13, 1949

Arizona Daily Star, Dec. 14, 1949

(The Mayor got lost!)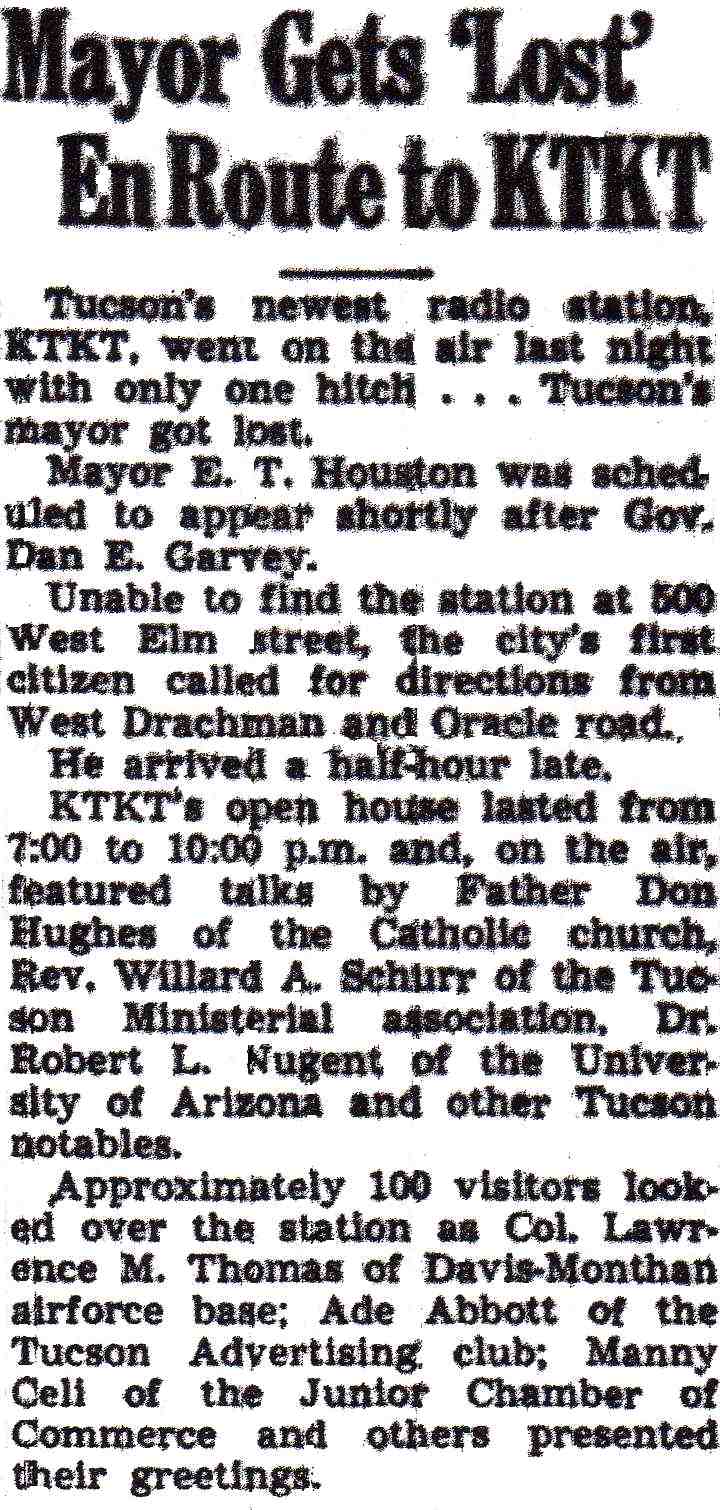 Don't miss these other items of interest regarding the opening of KTKT!

Bob Matteson was actually the first voice on the KTKT airwaves.

Read his account of the first few weeks of operation, HERE.
Take a look at rare photos of the building and transmitting tower during construction, HERE.
Phil Richardson, GM in the 60's, writes some lively comments in a letter to our webmaster, HERE.