THE DAY THE MUSIC DIED

  By C J Brown

    After more than thirty years of presenting popular music to Tucson and Southern Arizona KTKT moved to all news – no music format on Monday April 10 1989. All 144 Tucson Toro baseball games will also be aired. This dramatic programming move marks a big change for KTKT.

    Since first going on the air December 13 1949 as an independent non network radio station KTKT always has always relied on the popular music of the day to provide most of its programming. After Frank Kalil – Tucson's most popular radio personality during the late fifties to late sixties - put an exciting new Color Radio top 40 format in place during May of 1957 - KTKT enjoyed more than 20 years as Tucson's top rated radio station. Over the last few years KTKT – an AM station at 990 on the dial and all AM stations in general - have lost favor to FM stations offering music with superior audio fidelity. Despite adding new AM stereo broadcast capability in the early eighties – thanks mainly to the FCC and its inability to choose a standard universal format for AM stereo – those efforts were for the most part ignored by radio listeners at large.

    The tremendous growth in the number of both AM and FM radio stations in Tucson and the niche programming now available on both bands has also contributed to the decline of Top 40 music radio on the AM band. A few years ago KTKT abandoned live locally originated music and adapted an automated satellite music service.

    The Star article below from Friday April 7, 1989 by Jim Radcliffe heralds the changes due to occur to KTKT Monday April 10. The article does not mention a time for the format change but it is likely to have taken place during the morning drive –perhaps at 6 or 7am. Anyone who may have listened as the format change took place – or even rolled tape at the time is encouraged to contact us here at:

                                     colorchannel99@ yahoo.com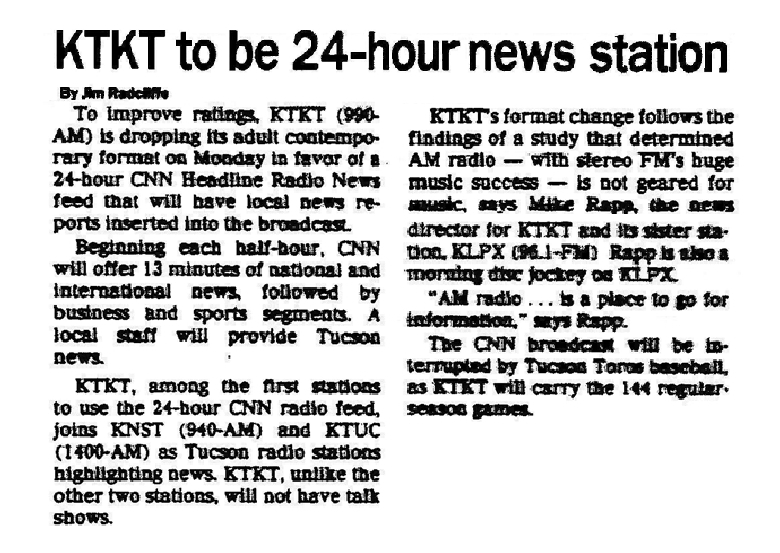 C.....and so the legendary music station changed formats, not with a bang, but with a whimper.

    No mention of the illustrious past.

    No mention of the legendary status of one of the nation's great top forty stations.

    Just another station changing formats.

    Then came the '90's and the KTKT as millions knew it was just a memory, but one they would keep and cherish forever.